Collaboration and Communication Apps
Marilynn Andrews, M.A.
GroupMe Application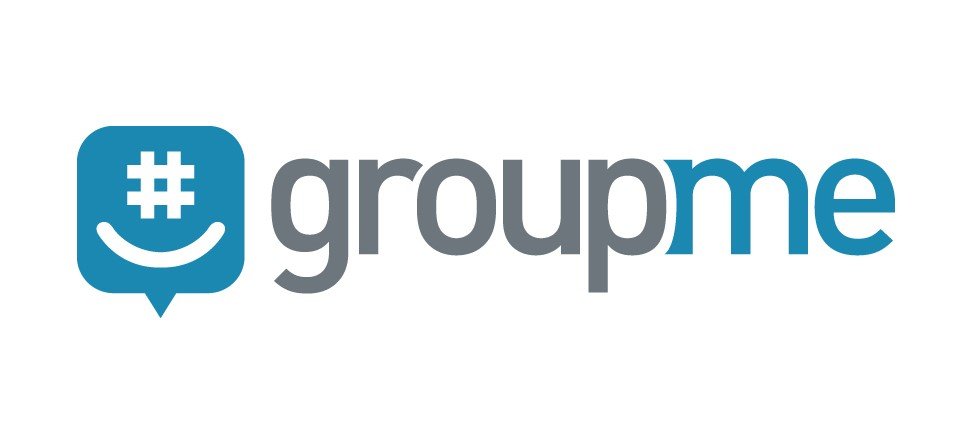 GroupMe is a messaging application to which can be categorized into groups based on the intended audience. GroupMe is best known as a simpler way to stay in contact with coworkers, organizational groups, friends, and family. This application can be downloaded from iOS, Android, and desktop devices. One of the benefits of using GroupMe is the ability to add people from your already existing contact list.
Within the field of education, the GroupMe app can be used as a means of expanding communications within an "inclusive learning environment" (Grosseto and Hebert, 2019). This simply means that everyone has an opportunity to engage and communicate using the mobile application. Communication takes place using this app from multiple perspectives including teacher to teacher, teacher to student, student to teacher, parent to teacher and teacher to parent. Research shows that students within higher education were more comfortable with approaching their instructor when teacher to student support was initiated using the Groupme app (Gronseth and Hebert, 2019).
Yan (2021) describes the conditions when navigating remote learning during the Covid-19 pandemic. With the mass influx of media and technology integrations into learning, "minor adjustments had to be made to ensure students continue to learn and remain socially, emotionally, and intellectually whole" (Yan, 2021). Since learning remotely is a newer concept to many populations, there has to be an emphasis placed on the well-being of its users. Within the early childhood education sector of education, social media usage is best utilized as a means of communication and engagement between families and educators. Research shows that lack of parental involvement leads to inadequate social and emotional development for young children. Research also suggests that attempts to contact families using technology are "often unsuccessful" (Fan and Yost, 2016). The reason to which a lack of communication takes place for families within the early childhood education sector includes a lack of access to technology resources, lack of technical knowledge, and other socioeconomic related reasons to which contribute to this breach in communication (Fan and Yost, 2016). It is suggested that families be very cautious with the information shared using this application, as many users can access the content if the message is sent to the entire group. However, private messaging is an option when using this application.
Within a clinical educational environment, the use of GroupMe further enhances mentoring opportunities for students and practitioners alike (Mackessy, 2019). Adult learners have the opportunity to engage in messaging, asking and receiving questions, engaging in events online, and participating in online meetings (Mackessy, 2019). Much like parents within the early childhood sector, engagement opportunities can expand with the use of the GroupMe application.
Zoom
Zoom is best described as a video conferencing application. Zoom allows its users to virtually schedule and meet up with one another through its video conferencing tools. There are several features within Zoom that benefits both the facilitator and the meeting participant. Of these features include one-on-one meetings, group video options, screen sharing, and screen and audio recording. Zoom offers teams a free and simple option to hosting video meetings and events. One of the major features of Zoom is its compatibility to other web based programs such as Google Suites. When a scheduler seeks to schedule a Zoom call, the information can automatically be imported into Microsoft or Google calendar requests for easy access for users.
With every online technology software, there are downfalls. The Zoom application within an educational setting can be extremely beneficial for knowledgeable users. However, navigations such as the 'mute' function or 'camera-on' feature are two of the most misused features when seeking to deliver a video to people of all educational backgrounds. Also, privacy is another major concern when working with young children and families. Within early childhood education, Zoom has been used to host parent meetings and community wide engagement opportunities for childcare partners. Unless the Zoom platform is protected or made private, there is the possibility of Zoom "bombing" to occur. Zoom "bombing" is best described as an outside Zoom account user hacking into unsuspected Zoom conferences. Many times, these hackers enter into the Zoom meeting and solicit inappropriate content to the participants online.
Within the school setting, educators and administrators are advised to set parameters when utilizing the web application with students at home. During the Covid-19 pandemic, remote policies and procedures had to be implemented within school systems, as misuse of the Zoom platform became an issue. Within many lower income, urban communities, educators reported witnessing inappropriate behaviors from the students and parents to which were logged into the Zoom sessions remotely. Prior to issuing the laptops to students, a signed technology agreement needs to be issued to parents to ensure a healthy learning environment ensues with each remote learning opportunity.
According to Dayal and Tiko (2020), parents of early childhood students are more concerned about their students not learning content virtually as they would in a face to face setting (p. 338). During the pandemic, educators reported their primary concerns when interacting on Zoom relating to the health and safety of themselves and their students (Dayal and Tiko, 2020). The teachers also expressed concerns about the emotional well-being of their Pre-K students and spending long periods of time on the Zoom platform during the initial Covid-19 lockdown (Dayal and Tiko, 2020).
Facebook
Facebook has become a household name and commonly used mobile and web-based application. Facebook is a social media application to which connects virtually anyone of legal age to the platform for communication and social networking opportunities. While communication and networking are the two major components of Facebook, the web and mobile application also offers the ability to post content for sharing capabilities to other users. This feature is one of the most used on the app. When implemented within higher education and professional training environments, the use of Facebook has many benefits, as it serves as a major connecting piece to those utilizing the application. Users can interact and post content relating to the professional environment to which they are working within.
When using a social media network as large as Facebook, there are potential dangers to its users, especially with children. Since the creation of the website, there has been an age restriction present for users choosing to sign up and create an account. However, as many educators and parents have experienced, there are simple ways to avoid this safety measure and young and teenage children still are able to access the content on the social media site. The primary concern is children networking with the public along with posting content that poses a potential safety hazard to themselves such as address and school information. Parents of teenagers are encouraged to monitor their child's social media usage to avoid any mishaps.
From an early childhood education lens, the use of Facebook within historically underserved communities proves beneficial for young children. The use of Facebook as a means of communication and sharing pertinent information to parents and caregivers of young children is the reason for this conclusion. Early childhood practitioners utilize social media to promote healthy and developmentally appropriate practices to teenage and adult parents. Research has proven this to be extremely effective, especially in the areas of social emotional, healthy eating, and nutrition behaviors (Zhang, Panochelli, and Hall, 2021).
When using the social media site within an educational environment, there are certain precautions the educator should take to ensure that everyone stays safe. Research suggests that students be engaged and using a variety of technology and software programs within the curriculum rather than focusing on one application such as Facebook. Research conducted by Yan (2020) suggests this same notion as it was implemented within a high school as the entire school participated in a shift to remote learning. During one school day, students had the opportunity to participate in Dance, Language Arts, Mathematics, Science, History, Chinese, Special Projects classes (Yan, 2020, p. 189). The research showcases that the students were not negatively impacted by social media usage during the allotted four-month trial period. Using a variety of technology tools, students had the opportunity to interact with their peers while learning new content.
Google for Education
Google for Education is an all-inclusive web and mobile device application to which seeks to connect educators to their students, families, and community. Google for Education includes Classroom, Mail, Slides, Drive, Hangouts, Voice, Sheets, and many other applications easily accessible under a registered Google account. For users, Google is an excellent option for integrating technology into curriculum as the web-based applications are also accessible on mobile devices. Google also offers certification programs for those seeking to expand their Google related skills and services.
Google Hangouts powered by Google Suites and Google for Education is an application used for communicating through desktop and mobile devices. Google Hangouts is an additional branch of the Google Suites or Google for Education. The major benefit of using Google Hangouts is the ability to merge existing contacts into the application for immediate contact. Google Hangout provides additional safety measures as its users can opt for using a Google Voice phone number instead of their assigned phone number per service provider. When considering the safety measures that are needed within an educational environment, this application is beneficial to educators.
When utilizing Google for Education within a professional or educational setting, there are additional safeguards to consider ensuring that safety and data protection is a priority. Documents can be created using Google Docs, Sheets, and Slides. Research proves that the use of Google applications improves the collaboration and feedback efforts of educators, students, and families (Odewumi and Ahmed, 2019). Within each of these applications, there is the option to share and collaborate with peers within one working document. While this feature is beneficial when seeking to create cohorts or collaboration groups, if the content is not on a view only mode, it can be altered, deleted, or copied. Also, there are additional security concerns with the Google platforms as any document can be made into a copied version. Educators are advised to upload content as a PDF document when seeking to share information with students or parents using the Google platform. Although safety is a major concern when creating documents, one of the major benefits of Google for Education is the Google Classroom application. Students enrolled within a Google Classroom course can collaborate and communicate using discussion boards, messaging features, and shared documents. Educators are advised to monitor the content entered into Google Classroom to ensure the remote learning platform remains educational and professional.
Class DoJo
Class DoJo is an educational technology platform that connects parents, students, and educators using a mobile and web-based platform similar to Facebook. Class DoJo gives educators autonomy as there is an option to create a classroom for students, parents, and community partners. Within each classroom, members of the group can then participate in collaboration by posting on the class wall, sharing content, and commenting on posts. Class DoJo can be downloaded from a mobile device or desktop computer program.
Class Dojo does not pose any immediate threats to safety, as each class invite must be sent and approved by the educator. Parents are encouraged to limit the posting of personal content since these items are viewable by all members of the classroom. Research shows that the use of software such as Class Dojo allows teachers to gamify education and increases student's overall engagement and collaboration (Gerber, 2017). "Students are encouraged to play the games and accept failure due to unlimited opportunities to participate. In turn, this creates a culture of experimentation" (Gerber, 2017). Within a platform such Class DoJo, teachers can post the link to the exercise or activity for immediate access from students. Parents can also keep track of the current materials and play along with their students at home.
When considering the concept of gamification, there is always the possibility for unhealthy habits to result. These unhealthy habits include too much screen time, gaming addiction, and social emotional issues. However, with proper monitoring, students benefit from gamification through applications such as Class DoJo. "The Dr. Suess quote, 'Games you can't win because you play against you,' emphasizes the fact that educational gamification trends can tap into students' meta-awareness to play through failure" (Gerber, 2017). Teachers can set parameters to ensure students do not develop unhealthy habits.
References
Deal , H.C., & Tiko, L. (2020). When are we going to have the real school: A case study of early childhood education and care teachers' experiences surrounding education during the covid-19 pandemic. Australasian Journal of Early Childhood, 45(4), 336-347. https://search-informit-org.ezproxy.liberty.edu/doi/10.3316/informit.579839451210378
Fan, S., & Yost, H. (2019). Keeping connected: exploring the potential of social media as a new avenue for communication and collaboration in early childhood education. International Journal of Early Year Education, 27(2), 132-142. https://doi.org/10.1080/09669760.2018.1454301
Gerber, H. R. (2017). Soft(a)ware in the english classroom. English Journal, 106(6), 88-90. http://ezproxy.liberty.edu/login?qurl=https%3A%2F%2Fwww.proquest.com%2Fscholarly-journals%2Fsoft-ware-english-classroom%2Fdocview%2F1918837406%2Fse-2%3Faccountid%3D12085
Grosseto, S., & Hebert, W. (2019). Investigating use of mobile instant messaging in higher education courses. TechReady, 63(1), 15-22. http://dx.doi.org/10.1007/s11528-018-0361-y
Macke's, L. (2019). Intervention for Focused Online Mentoring. Nurse Educator., 44(6), 292–292. https://doi.org/10.1097/NNE.0000000000000687
Odewumi, M. O., & Ahmed, M. A. (2019). Fostering google apps for education (gafe): The conceptual framework. Bulgarian Journal of Science and Education Policy, 13(1), 34-49. http://ezproxy.liberty.edu/login?qurl=https%3A%2F%2Fwww.proquest.com%2Fscholarly-journals%2Ffostering-google-apps-education-gafe
Yan, S. (2021). COVID-19 and technology use by teenagers: A case study. Hum Behav & Emerg Tech. 3, 185– 193. https://doi-org.ezproxy.liberty.edu/10.1002/hbe2.236
Zhang, Q., Panochelli, J., & Ann Hall, L. (2021). Using facebook to promote healthy eatingbehaviors among low-income american caregivers of young children. Journal of Nutrition Education and Behavior, S78-S78. https://doi.org/10.1016/j.jneb.2021.04.458