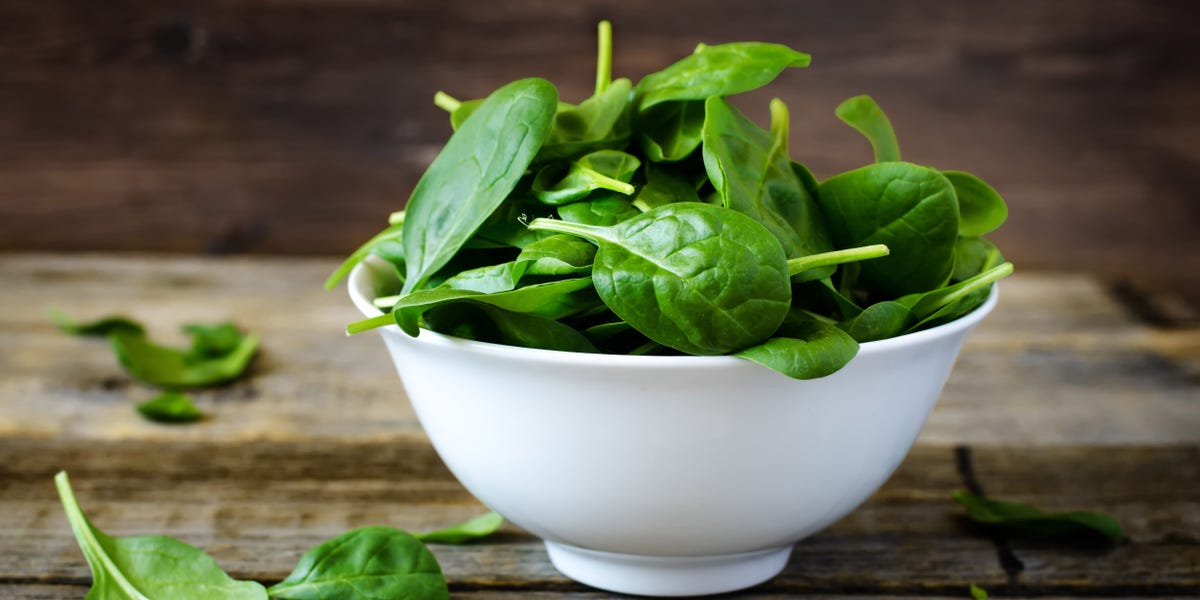 Leafy green spinach is a superfood that can be prepared a number of ways due to its versatility. Spinach can be used within green smoothies aa a source of fiber. Spinach can also be baked into casseroles and fried into breakfast entree's such as eggs. Spinach (Spinacia oleracea) is a leafy green vegetable that originated in Persia. It belongs to the amaranth family and is related to beets and quinoa. Did you know spinach offers major benefits to those who choose consume this superfood?
Spinach is Rich In Nutrients
Spinach is a source of Vitamin K which aids in bone support. Vitamin K works to enhance a protein called Osteocaic that is responsible for stabilizing calcium in bones. Spinach also provides a source of calcium, Vitamin D, fiber, potassium, magnesium, and Vitamin C. The combination of these nutrients all aid in bone health.
Spinach is high in Vitamin A which eliminates viruses and bacteria. Vitamin A helps our skin and mucus membranes. Vitamin A is also known to be good for growth in bodily tissues including skin and hair. To help reduce the loss of hair and infections, the consumption of spinach is the solution.
Rich in Vitamin C, spinach supports heart health. There is a rumor that spinach helps with facial wrinkles. Pregnant mothers are advised to consume spinach to help with prenatal and cardiovascular diseases. Spinach is rich in lutein which helps prevents heart attacks and cures heart diseases.
Spinach is Low in Calories
Spinach is mostly made of water. One cup of cooked spinach is 41 calories. Spinach provides 160% of the daily goal for Vitamin A and about 40% for Vitamin C.
Spinach is a Source of Energy
Through magnesium, spinach is able to help generate energy throughout a days span. Spinach is a excellent source of folate. As you navigate through the day, the consumption of spinach helps turn your body into usable energy. Spinach is alkaline in nature. This is why spinach is a number one choice for many athletes.
Spinach Supports Brain Health
Spinach contains anti-inflammatory effects that aid in brain health. One study shows that when older adults consume one to two servings of spinach daily, that person had the same cognitive abilities as someone 11 years younger in comparison to those who did not consume greens.
Spinach Vs. Kale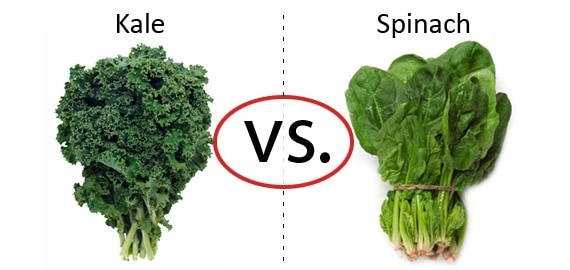 Spinach and Kale are similar in a number of ways. For starters, both vegetables are leafy greens that are high in fiber. Which is better for you? Let's look at the facts and you can determine which route to take.
Kale has more calories per 100 g serving than spinach. It should be noted that both vegetables are still very low-cal choices.
Both contain fiber and several other important micronutrients in varying amounts, including vitamin A, riboflavin, and calcium.
They're both high in vitamin K — a key vitamin involved in healthy blood clotting and bone formation.
They've also each been shown to positively impact heart health by improving several heart disease risk factors, such as high cholesterol and blood pressure.
Add kale or spinach to a salad topped with vegetables and a good source of protein.
Both are linked to improved heart health, increased weight loss, and protection against disease.
The Best Sautéed Spinach
Crunchy Creamy Sweet provides a recipe for the best sautéed spinach and it looks delicious!
Prep Time- 2 mins
Cook Time7 mins
Total Time9 mins 
A fresh spinach sauteed with garlic and onions in olive oil and butter. This easiest and fastest spinach side dish is healthy and low-carb diet friendly.Course: Side DishCuisine: AmericanKeyword: vegetableServings: 4 servingsCalories: 85 kcalAuthor: AnnaIngredients
1 tablespoon olive oil
1 medium white onion chopped
4 teaspoons minced garlic see note
1 tablespoon unsalted butter
1 teaspoon soy sauce
8 oz fresh spinach
1/2 teaspoon salt
1/4 teaspoon black pepper
Instructions
In a large skillet, heat up olive oil. Add onion and saute for 4 minutes. Add garlic and butter and saute until the onion is starting to brown.
Add soy sauce and stir well. Add spinach and gently toss to mix with sauteed onion.
Cook until spinach is wilted. Season with salt and pepper.
Serve immediately.